This site is built to archive and share pictures and information for the rebuild of my Mustang II. Among these pages you will find the eventual transformation (albeit slow) of my '78 2+2.
IN THE BEGINNING.
I purchased the car from Rob Macgregor, who was the service manager of the local ford dealership that i was involved with in co-operative education. I had helped him build the german V6 (2.8l), donated parts from my own collection and spent many wrench hours on it. He drove it for a few years, then lost interest in it, since he knew i liked the car, he sold it to me for $100. I originally planned for it to be a parts car, so it sat for a few years and i finally decided to do something with it.
LIFE NUMBER 1
The first transformation that the car took on was its first engine transplant. I sourced out a 1985 5.0 and converted it over to fit the car. The engine was bone stock, but was just basically intended as a template to work out all the bugs that an engine swap always seem to have. Even with the engine being stock, it still provided for a "peppy" drive. I drove it like that for a short time, until the rear main seal puked on it. Since the engine had to be pulled anyway, a new engine was in order.
LIFE NUMBER 2
It was time to redo the car again, and this time for real!! I used the same block, since it was a low mile donor, and sent it to the machine shop to be line honed, bored and checked for cracks. A rebuilt crank from a local speed shop (which was chamfered and radiused), hypereuctic pistons (stock rods though), wolverine camshaft, double roller timing chain and high volume oil pump rounded out the short block, which i assembled. The heads are off of a '71 truck and consist of 1.90 and 2.02 valves. They were treated to a three angle seat grind and fresh springs and rockers installed. A Holley Dominator aluminium intake, Holley 750 double pump carb, high flow waterpump, and full chrome package finished it off. How does it run? No idea!! When i was installing it into the car, i ran into problems with the transmission not lining up. I got frustated, backed the car of the hoist and put it back into storage. That was almost five years ago now.
LIFE NUMBER 3
Now is the cars time to really transform. Plans are to turn it into a road race car that can actually run on the roads. The transformation will include converting to EFI, AOD, four wheel disc brakes, lowered a little, 17" wheels, rollcage and a new paint scheme. The car is currently in the beginning stages of disassembly. I don't have much time for it right now, but hopefully i will soon.
My 1978 Mustang II 2 2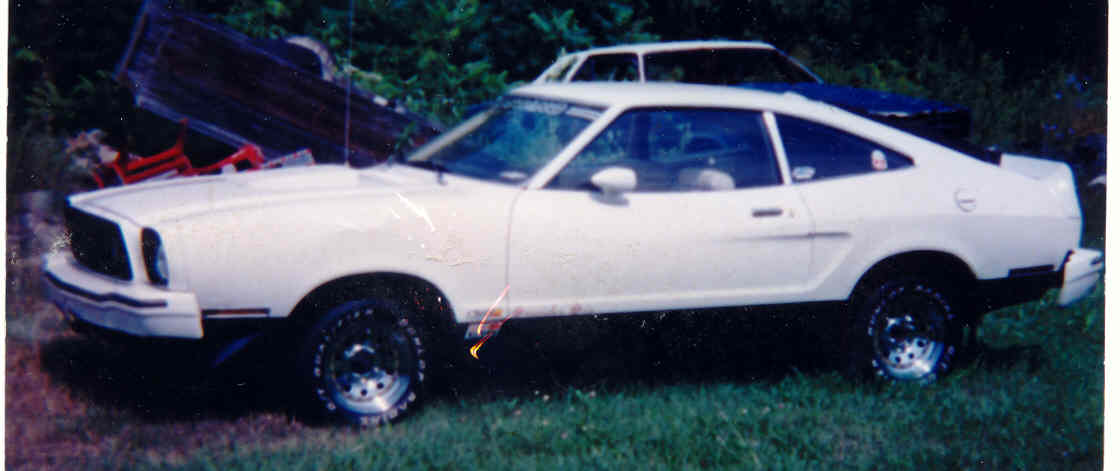 at least what it used to look like!
Technical info.
Manufactured in: January,19, 1978
Model year: 1978
Assembled at: Dearborn, Mich. Plant
Body Style: 3 door hatchback
Factory installed engine: 171 c.i., 2.8L, 2V, 6cyl
Exterior Color: Bright Yellow
District Sales Office: Central Canada
Interior Color: White/Black Vinyl
Scheduled Date: January 03
Transmission: Four speed
Rear Axle Ratio: 3.00:1
Factory Air Conditioning: No
decoded from Mustangii.net